Our Tri-State Area Team
Handles All Aspects of Your Kitchen Remodeling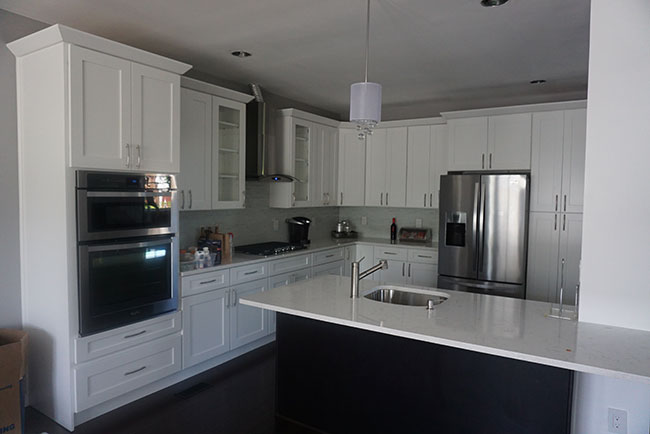 When you need a kitchen remodeling in the Tri-State area, you can count on Bath and Floor Stiles to get the work done. Our kitchen remodeling company takes the stress out of your next project using our six-step process.
Explore
Design
Selection
Supply
Build
Follow-Up
You have probably already started planning your new kitchen by looking through magazines and online searches. We will take those ideas and work with you to build the kitchen of your dreams.
Our Process
Explore
We want to hear your ideas, dreams, and plans. You can start with our initial free in-home consultation or stop by our showroom to explore your thoughts and see the latest products and designs. During your consultation, our remodeling professional will gather information about your space, goals, and overall style. Our team will share their expertise and help you generate an overall plan and budget for your project.
Design
Once the Explore phase is complete and the overall plan and budget approved, we'll sign an Initial Planning Agreement. Then, our design team will start sketching 3D kitchen layouts, plans, and elevations based on your exploration conversations.
Selection
In this phase of our process, our design professionals share the created layouts for your kitchen remodel, and we work to refine the plans. Our team will also help you select your preferred cabinets, floors, countertops, faucets, and whatever else you need, all located in our showroom.
Supply
Once the design and selection processes are complete and the materials are on the way to our warehouse, we will contact you to provide a start date for your project. We will also consult with you on how to prepare and what to expect through the build process.
Build
This is the fun part, where your ideas and our expertise come together to create your beautiful new kitchen. Our project manager will oversee the project from beginning to end, maintaining consistent communication with you. They will keep you up to date on the various steps as they happen, so you know exactly where we are in the process.
Follow-Up
Bath & Floorstiles doesn't disappear when the job is complete. We will check up with you to make sure everything is to your liking. If there happens to be an issue, our service department will come to your home and do everything possible to make it right. We want you to be proud of your kitchen remodel and happy with Bath & Floor Stiles.