Important Ways to Avoid Picking the Wrong Paint Color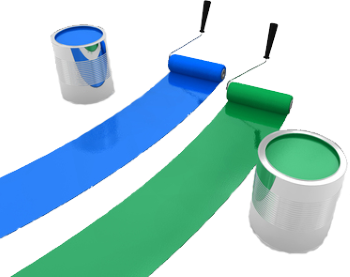 There are always plenty of articles floating around about how to pick the right paint color. Sometimes it is about making sure you are able to just avoid selecting the wrong hue. Learning important tips for avoiding picking poor paint colors is the key to success.
All of this works together in order to try to ensure that you end up with wall colors that you can live with, and love, for years to come. Of course, having long term success with your painting project is also about making it a point to select the right professional. The contractor you work with should have your best interest in mind, which should include being concerned with you loving your color selections. Too many Washington DC homeowners assume ahead of time that color selection is an easy process; you simply pick colors you like. Keep in mind, some people like the color black the best, does that mean it would make a good choice for a point selection for their interior walls?
Setting Yourself Up to Make Good Choices
You have probably already read up on all of the ways that you should be making good choices about colors, but what about simply making it a point to bypass making color choice mistakes?
Don't Ignore the Basics
It is easy to see more neutral or subdued hues as boring. Yet, these more basic colors make it easier to put the focus on the other details in the room. Before making color choices, determine what you want the focal point of the room to be. If you want the walls to steal the show, by all means select a vibrant shade that can't be ignored. However, as it is in most cases, there is usually a piece of furniture or element of décor you want to be in the spotlight, so use background paint color in order to make that possible.
What About Lights?
Too many homeowners make color choices based on how the paint will look in just the right stunning natural sunlight setting. So what about once the artificial lights come on overhead after the sun has set? No matter how attractive you may think a color looks, under harsh and unnatural lighting conditions, everything can change. Make it a point to take a realistic look at your color considerations under the type of lighting you are going to have in your home.
Don't Clash Your Colors
A common erroneous choice homeowners make is in relation to the colors they combine. You may choose one, two or three colors that work well in a room, with both natural and artificial light. However, put them altogether and the results could be disastrous. Also take into consideration the other colors that will be used in the room, such as furnishings and décor. If you are not careful, each cautiously handpicked piece and color will end up clashing terribly together.
Steer Clear of Fads
It can be easy to get caught up in the latest color trend, thinking it looks appealing. Yet, once slathered all over your interior walls, you are likely to not have quite the same feeling about it. If nothing else, consider a more subdued and neutral version of the color. Best case scenario is to select basic walls and introduce color trends with accent pieces, such as throw pillows. In other words, leave the trendy hues to items that are easy to replace once that color falls out of fashion.
Choose the Right Professionals
The first step in the right direction for picking your wall color is to find the right expert to partner with. Ask around and local homeowners will tell you the same thing - Bath & Floor Stiles, Inc. is the name to rely on for all of your painting service needs. This is partly because we offer a wide variety of other work and know how it all must fit together. Our job is to improve the look of your home, but our goal is to do so in a manner that leaves every customer 100% satisfied with the outcome.
If you're looking for a professional Kitchen, Bath, and Flooring company, please give us a call today at 240-683-0011 or complete our request estimate form.