Maintaining Your Hardwood Floor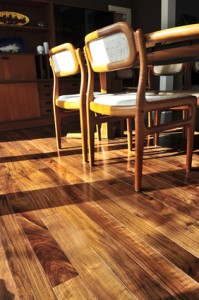 While there are many modern types of flooring nowadays, Washington, DC hardwood flooring is an old favorite of many. It has a natural look and feel to it that no other floor covering has. Also it is very easy to clean and maintain and it can be refinished many times, unlike engineered flooring or laminates.
To properly clean your hardwood flooring you need to pay attention to a couple of things, since it is very easy to scratch if you're not careful. Dirt, grime and grit are killers for this flooring type as they tend to mar it unless removed right away. Also if you live in a rather dusty area, it shows more on hardwood than on other materials. This is why one of the most important aspects of caring for your hardwood floor is regular sweeping and dusting. You should do it once a week or if you see dirt accumulated before the week is over, do a sweeping again.
When you're dusting and sweeping make sure to use only products that have been expressly approved by the manufacturer. If you simply use normal household cleaning products you might be in danger of damaging your floor instead of cleaning it. If you prefer vacuuming, you could easily do that instead of sweeping as it's also a faster way of removing dirt and grime from the surface.
Depending on your hardwood type, you might have a floor with a glossy finish or with a matte finish. If it's glossy, it means it has been treated with a water based urethane finish to give it that protective layer over the actual hardwood. The matte finish has been protected with a layer of wax or oil, or a mixture of the two. You should not use any regular detergent on any of the two types as it will easily destroy the protective layer over your hardwood.
If you use water for moping, use only a little, so the water doesn't penetrate the oil or wax layer. If your hardwood has the glossy finish, you can use some household hardwood cleaner as long as the finish doesn't contain oil or wax in it.
Avoid using ammonia on your flooring surface and avoid using wax if your have a glossy finish floor.
When moving furniture across the room, try to avoid dragging it and lift it instead. This will avoid leaving various scratches and marks on it. Also avoid walking over the floor with high heel shoes and make sure to trim the nails of your pets.
Article Source: http://EzineArticles.com/?expert=Jorge_Duvais
If you're looking for a professional Kitchen, Bath, and Flooring company, please give us a call today at 240-683-0011 or complete our request estimate form.